Some readers may remember my advertising spree last winter, in support of my short commissions. I'm carrying on with the noise project again. I have a goal of putting out an album when I reach 45 noise shorts and I am currently on #36, so there's just 9 to go! Check out my shop to order one.
For me, doing the promotion is part of doing the project. With my Christmas album, I tended to do facebook posts for every song I put out, so it seemed natural to kick off the latest (and possibly final) round of noise music commissions via a post to my facebook page.
Due to the temporary benevolence of facebook algorithms, a fair number of people actually saw the post. Then these same algorithms alerted me that this post was doing very well. Was I interested in promoting it, say to US-based fans of Christian rock?
I LOLed. Although, it was an idea that suck with me. When I lived in Berkeley, the guitarist/song writer for Sixpence None the Richer was my next door neighbour for a year. He turned out to be a very nice chap. We went for coffee many times and when we talked music tech, we had a very large number of interests and issues in common. While I tend to have more secular views, there's certainly nothing in my music that has religious baggage either way. Are we not to 'make a joyful noise unto the Lord'?
Alas, I don't think facebook advertising is ethical, because of its data collection and tracking, etc, but it's also very cheap. Bless me, for I have sinned. I gave £7 to Facebook, in exchange for 7 days of showing my posts to Americans who probably knew what the Dove Awards were before living next door to a many-time winner.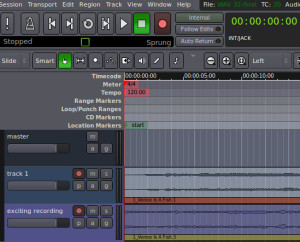 After suggesting that I turn the post into an advert and taking my money, Facebook promptly declared that my advert was against their guidelines. The image, a screen shot of the Ardour program that I use for music-making, contains too much text. I made an appeal and they relented.
I'm still on the first day of this experiment. So far:
2 Christian rock fans have clicked 'like' on the post (a cost of 50p each)
6 people have clicked through to view the shop.
0 people have clicked through to either sale item.
0 people have made any orders.
I'm paying £1 / day for this little experiment, so the week-long advert will cost as much as 1 sale. I have a feeling this is not money well spent, but I can see why advertisers do pay facebook. If I had been less ridiculous and, say, paid to attract the attention of Canadian fans of noise music, it's possible to speculate that the novelty of seeing 'bespoke noise' advertised to fans of the genre might actually gain me listeners if not orders.
Music commissions make great gifts. Order now for this Valentines Day!